Virtual courses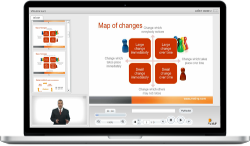 In the first part of Change management training we introduce you change from the different perspectives such as necessary presumptions, stages or methods. These perspectives are all useable for implementing the change. After this we classify change ranging from "large and slow" to "small and quick" according to map of changes. We also differentiate between strategic and operative approach. The point of this training is to show you how to become a leader of the change and how to influence others in a way that change is meaningful and credible for them.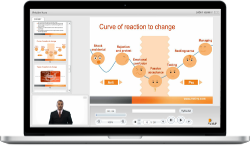 In the second part of the Change management training we introduce you particular techniques for implementing the change and also a curve of different reactions to any change, both in the context of time development. You get to know how people react to change and how to deal with these reactions. In the end we discuss the stabilization of change. It is important to know how to make the change institutionalized and be part of a common daily praxis.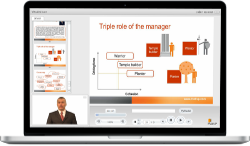 In this course we will deal with the differences between your job role and your personality. You will learn how to become credible in your job role. After watching this course you should realize that you can never separate your personality from your job role. The aim of the course is to show you how to make decisions and promote them. Even though we personally don´t identify with the consequences. This course will focus on the roles of managers and leaders. We will also pay attention to the commitment and responsibilities which should be both part of the stated job roles. At the end of this course we will discuss the importance of each component of the managerial role.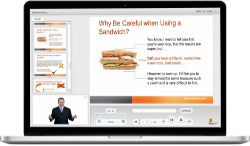 In this course we will deal with the most important part of active communication – with constructive feedback. We will talk about the importance and usefulness of feedback. We will also focus on different aspects of constructivefeedback. You will learn how the constructive feedback should look like and when we should give it. We will discuss the ways you can provide somebody with feedback, how to share your feelings, opinions, attitudes and specific information with others. From this course you will also learn how to work with criticism and appreciation. The aim of this course is to improve your communication with your colleagues, clients and also suppliers.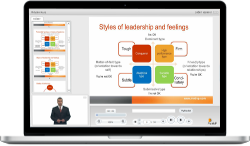 How to handle problems in leadership? How to compete different roles of leader? How to choose the right approach for leadership? Let's search for answers to those questions together. In this training we discuss different leadership styles and personal premises. Last but not least we speak about transactional, transformative and situational approaches to leading including delegation - how to correctly give instructions using optimal pressure. We also show you the most common mistakes in situational leading.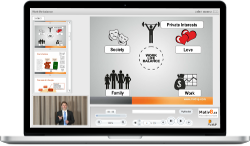 In this course we will continue with the topic of time management and will focus on time management from broader, personal point of view. We will present lifestyle areas which all have different importance in our lives. We will advice you how not to prefer only one single area of life, so that we are able to balance them and take from every area as much as possible. Not only how to manage time in different areas, but also how to use it effectively! You will learn how to work from home or away form work effectively, as this type of work is becoming more and more popular. We will demonstrate crucial attitudes and practical advice. The aim of the course is to make you look forward both to home and work so that you don't have to run away to one from the other.